24 Sep 2020
MUNDANE MAGIC– Michael and Colin's One-Year Ayaversary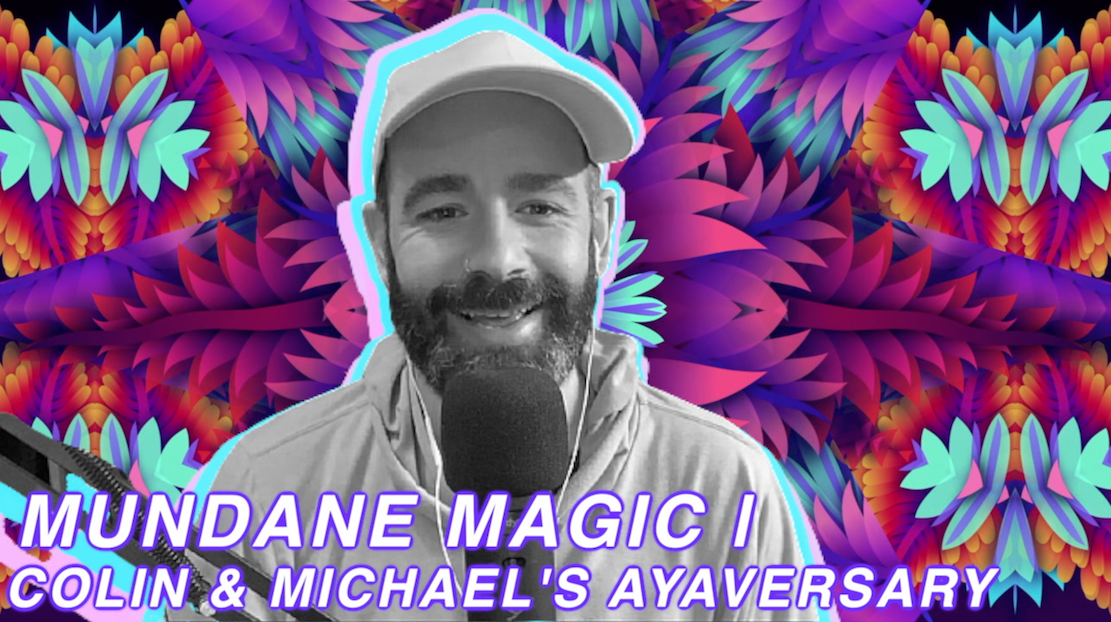 Crowd-sponsor the show and get rewards on Patreon!
Support Amazonian plant medicine tribes via Folk Medicine
Artist, musician, podcaster and dear pal, Colin Frangicetto returns to the mind meld to celebrate our one-year ayaversary!
Somehow it's already been over a year since Colin Frangicetto and I embarked upon our trying, enlightening, unforgettable Ayahuasca adventure at the beautiful Blue Morpho lodge outside of Iquitos Peru. In this mind meld, we muse about how things have changed, the magic in the mundane, whether or not another Aya adventure is in our future, and more.
Whenever I've got the hubris to feel bored (probably as I'm ignoring half the things I should be doing), I try to remind myself that capital-T This, in a macro sense, is not normal. What we think of as "normal" is really nothing short of miraculous. "Normal" is actually an infinite Russian doll of stochastic, fractal, homeostatic, biological, eco, cosmic harmony that's so perfectly in tune that it just keeps persisting. We dare to call that "normal." It's high silliness.
I'm bringing this up because, for me, there's no better way to feel the majesty and the mystery of that mundane sort of magic than what I experienced last year in Peru. As you know if you listened to the ayahuasca adventure pods we did back then, said magic was not revealed to me in an easy way. It was revealed via juxtaposition. A jump cut from "normal" to pure fractal chaos and the brink of insanity.
That sort of violent juxtaposition, it turns out, is a highly effective way to lust after everything you thought was "normal" and mundane a matter of minutes ago.
Of course, it wasn't all puke buckets and doom, there were transcendent moments as well, but I won't rehash the play-by-play. For that, do check out our ayahuasca adventure series.
Back to the point though, leading up to and via this conversation I did do some reflecting and that's one of the main, truly screaming insights that I have a year on from this experience— Don't get hypnotized by time into thinking "normal" isn't remarkable. Don't get lulled into believing your situation isn't miraculous. It objectively, statistically is. I don't know what the odds are on incarnating as a human, but it's gotta be astral Power Ball-level shit.
Colin Frangicetto is a musician, podcaster, and artist most well-known for playing in the band Circa Survive.
Support Amazonian plant medicine tribes via Folk Medicine
Support us by-