03 Jul 2021
Choose Your Own Adventure with Ramin Nazer and Shane Mauss | Mind Meld 259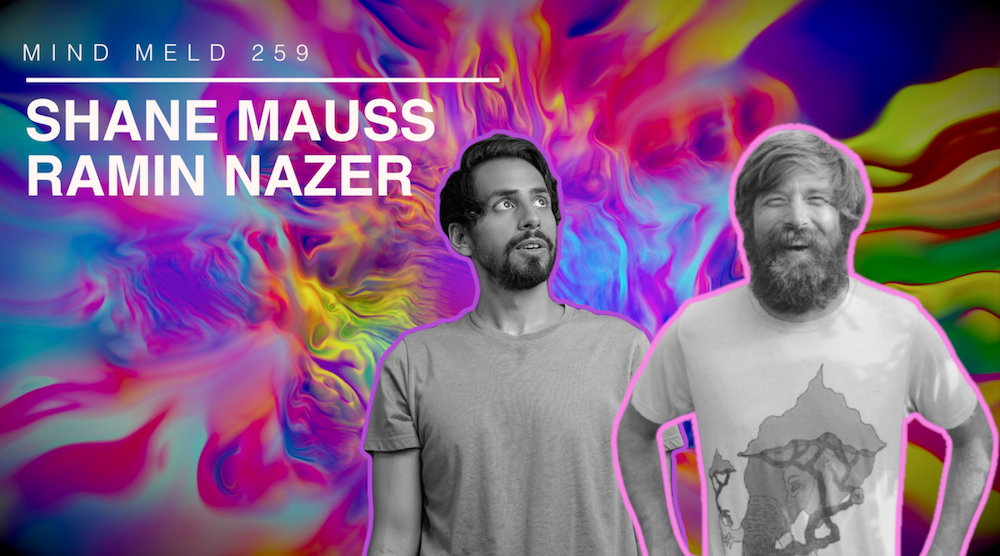 Comedians Shane Mauss and Ramin Nazer return for a mirth-filled mind meld on spiritual bypassing, the persistence of dogma, moon conspiracies, the relationship between the amusing and the profound, and more.
Their new podcast, Mind Under Matter is available wherever you listen to pods.
LISTEN | ITUNES YOUTUBE ARCHIVE STITCHER SPOTIFY
Don't miss a technodelic transmission– Review and Subscribe on iTunes
***This episode is sponsored by Ohana Kava Bar use code timewheel at checkout for 10% off!***
I've always had a distaste for dogma. I'm allergic to it in all of its forms– religious, scientific, nationalistic, you name it.
But the most pernicious dogma demons of them all are the ones we don't see. The abstract psychological sort that inhabit our minds without us even realizing they've moved in. These invisible psychological squatters do all sorts of damage. They program us to think boring thoughts, limit ourselves, mindlessly mimic one another, perpetuate dominant ways of being and thinking. (See my recent pod on mimicry with Luke Burgis for more in that vein).
If you want to kick out psychological dogma vagrants, you've got to keep your mind limber. You've got to keep the new ideas coming. You've got to create and be willing to change your mind. Above all else, you've got to resist the urge to get too comfortable in the reality tunnel you're in.
 Two human beings that do that beautifully are Shane Mauss and Ramin Nazer.
They're both comedians, podcasters, and psychonauts, but, to over-generalize, Ramin tends to be a bit more whimsical, and Shane, a bit more skeptical. On that note, in their new pod, Mind Under Matter, they riff together on a multitude of topics. Though they often approach them from different angles there are no dogmatic positions. There's no trying to prove one another wrong. They stick to open-ended, humorous, curiosity-stoking musings. It's a refreshing spritz of wonder.
Go here for more on Ramin, his podcast, and his humorous yet profound art blasts.
Go here for more on Shane and his science pod, Here We Are.